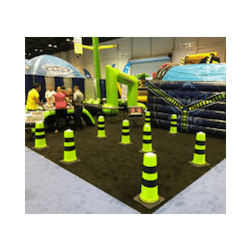 Light Strike Battle Cones
$200.00
Place the cones in a side by side, straight line, or in a circle, or randomly around the room…you make the course! Suitable for both indoor and outdoor events, this game takes our Battle Light technology to a whole new level! Race against the clock as one player is Team Red and the other is Team Green. The object of this Hi-Tech, fast-paced game is to try to amass as many points as the clock dwindles down.
Ten (10) LED sensors with intense sound effects surround you and your opponent! Participants must tap their color as fast as possible to accumulate the most points. Be on alert as the LED sensor(s) can change to your opponents color! Points are continuously tallied on the provided wireless scoreboard.
Speed, accuracy, and head-to-head competition make this an addictive high energy game for any age group!
This game is awesome for Corporate Events, School and Church Functions. Can be set up in as little a a 5x5 area or set out over the course of an acre. Kid and especially adult friendly.
Add to quote